By Steven Totten | Phoenix Business Journal
Drive along Loop 101 in the East Valley and you will now can see more of the pieces put together for OdySea Aquarium on the Salt River Pima-Maricopa Indian Community — namely the massive walls that have been erected this month.
Located next to Butterfly Wonderland off Via de Ventura, McCarthy Building Cos. finished putting up 68 walls on Sept. 11, after beginning construction in March. The walls vary in height from 51 feet to 60 feet, with a total diameter of 1,275 feet, with some weighing as much as 224,500 pounds.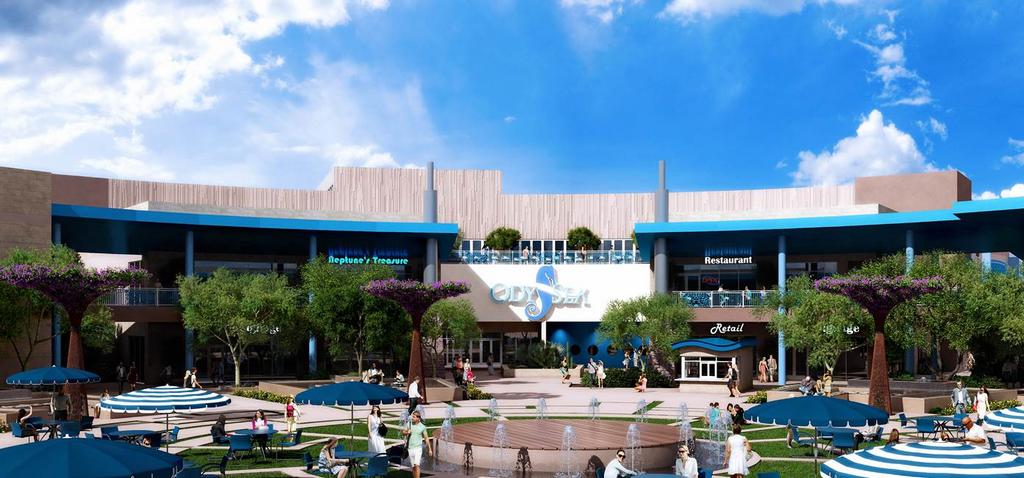 Cast placements and 44-foot-tall viewing windows will be added to the already existing panels.
OdySea's next installment for construction will be its life support systems to maintain the vast amount of marine life in the 200,000-square-foot space.
"Building the OdySea Aquarium goes far beyond any standard aquarium," said OdySea developer Amram Knishinsky. "From the story behind the innovative design, to the erecting of the enormous walls and plans for sustaining the marine life, the depth of this project is unimaginable."
The current construction is just the beginning of what looks to be an unparalleled space in the Valley. Scheduled to open in July 2016, OdySea will be the largest aquarium in the Southwest, spanning 16 acres with accommodation for up to 15,000 daily visitors. Attractions include a 180-foot Ferris wheel, indoor skydiving and SeaTREK, where visitors can experience a "deep ocean" exploration.
A 78,000-square-foot retail center, called The Shops at OdySea, will accompany the aquarium, which owners hope will be comparable to other nationally acclaimed hangout spots like the Gaslamp Quarter in San Diego.
There also is some speculation that the Phoenix Suns and Arizona Diamondbacks could eventually play in new sports faciliies near Butterfly Wonderland and the future aquarium in the Salt River Pima-Maricopa Indian Community.
Butterfly Wonderland, which opened in 2013, was the first structure to sit in the massive patch of empty ground on the east side of Loop 101 Via de Ventura exit.