WELCOME TO VIRTUAL FIELD TRIPS!
Designed for students in grades K – 12, we're bringing the amazing animals and team members from OdySea Aquarium LIVE to your class through a virtual broadcast, along with informative videos and curriculum-based activities that can be used before or after your LIVE session to introduce and reinforce STEM concepts.
"Honestly, this was super engaging to the kids and I am so excited for other classes to get this opportunity as well. It was well organized, and very thorough in terms of what was covered academically and was really focused on the animals. It was also great to have them interact with the care team. This was amazing. :0)"
- Elementary School Teacher, Paradise Valley Unified School District
WHAT DOES A VIRTUAL FIELD TRIP TO ODYSEA AQUARIUM LOOK LIKE?
You can choose from a variety of modules, each focused on different animals, habitats, and STEM topics. Each module is aligned to Arizona Science Standards and includes:


Video Lesson: Learn about the animals and habitats you will be seeing and get your students excited in this 5-10 minute video.

Curriculum-Based Activities: Choose from a variety of activities customized by grade level. These activities are available as soon as you book and can be used anytime before or after your LIVE session.

LIVE Virtual Session (30-45 Minutes): Hosted by our dynamic Education & Animal Care Specialists, we'll broadcast to your class LIVE from our animal habitats. Get behind the scenes, meet the animals, and ask questions!

VIRTUAL FIELD TRIPS ARE COST EFFECTIVE AND PROVIDE SCHEDULING FLEXIBILITY!
Pick from among several different modules, each aligned to Arizona Science Standards, to fit your curriculum.
Video Lesson and Activities are available before and after your LIVE session, giving you the ability to customize what you use and when you use it.
The LIVE session can be facilitated on the computer platform your school uses, making it seamless to execute if your students are all remote or if they are in a classroom.
Pick from a variety of dates and times that fit your schedule.
"Overall, it was an amazing experience and I know my students completely enjoyed the information and seeing the penguins. It was a nice break and an example of making our "new normal" work."
- Elementary School Teacher, Paradise Valley Unified School District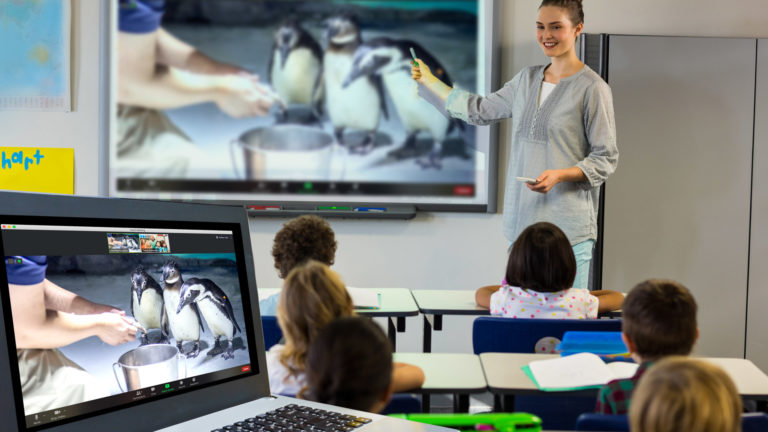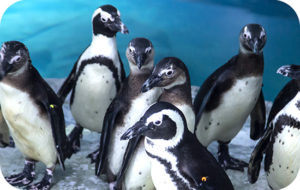 Waddle You Know? All About Penguins!
Learn all about penguins in this unique and live virtual visit to Penguin Point at OdySea Aquarium. Experience behind the scenes learning with our Education and Animal Care teams and explore things like the habitat, adaptations, and life cycle of the African penguin! Waddle YOU learn on your adventure?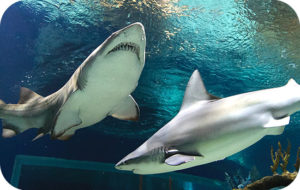 Fin-tastic Findings: The Tooth About Sharks
Once feared, now revered, sharks are mysterious and awesome. But they are also incredibly important to their ecosystems and our oceans. Learn all about these amazing top predators of the sea and what we can do to protect them. Join our Education and Animal Care teams in a 'jawsome' behind the scenes learning experience at one of our many shark exhibits!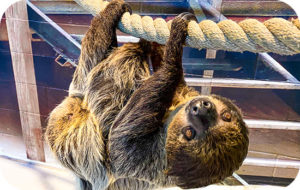 Too Cool for School: Slow Down with A Sloth
What's life like for the slowest mammal on Earth? Find out as you 'hang out' with OdySea Aquarium's resident sloths, Squidney or Barnacle (aka Barny), and learn all about these fascinating animals through a live behind the scenes lesson with our Education and Animal Care teams. Discover what the art of 'chilling out' means in the sloth world and why they do it so well…and so cute! Social habits, physical adaptations, and symbiotic relationships with other organisms are some of the things to discover during your virtual visit.
VIRTUAL FIELD TRIP MODULE PRICES
The LIVE sessions may be scheduled any time in the 21/22 school year.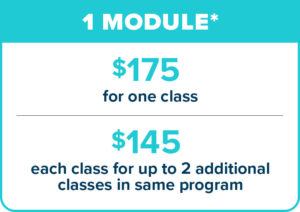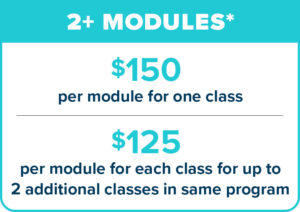 *Class size is limited to 30 students. Price does not include 8.05% sales tax.
Are you a Title 1 School?
See below for information on how to apply for a FREE Virtual Field Trip.
BOOK YOUR VIRTUAL FIELD TRIP
We are currently building our schedule for the 2021/22 school year and do not have a definitive start date. Please fill out the information below and indicate your preferred dates for your LIVE session. We will get back to you within 7 days to let you know if we can fulfill that request or need to schedule another day.

Reservations must be made at least 7 days in advance.
Cancellations, rescheduling, or changes to final class count must be made no later than 14 days prior to your scheduled arrival. No refunds or credits will be issued within 14 days of your scheduled arrival date.
Once you submit your request, an OdySea Aquarium representative will contact you within 1-2 business days to coordinate your reservation.
We reserve the right to reschedule any virtual field trip due to animal needs.
Contact us for questions: 480-291-8192 or email:

[email protected]
Title 1 Scholarships Are Available
The OdySea Aquarium Foundation is pleased to provide opportunities for Arizona Title 1 school classrooms to experience a virtual field trip at no cost.

Scholarship Criteria & Eligibility
We use the following criteria and eligibility guidelines in making our award decisions.
Title 1 School designation from Arizona Department of Education
At least 50% of the students eligible for the Free or Reduced Lunch Program
Scholarship awards are limited to one per school, per semester
Please fill out the Application Form below. We will contact you within 5 business days on the status of your Title 1 Scholarship request.
Application Process

The OdySea Aquarium Foundation receives multiple requests for Title 1 Scholarships every year.  There are limited scholarships and application does not guarantee an award.