Our Story
The journey of water begins
We follow the journey of a drop of water as it falls from the sky into the lakes and rivers. The rivers wind their way to the shores and down to the vast ocean. At each stage of the drop's journey you experience a unique environment teeming with animal and plant life to explore. From fresh water to salt water, bayous to swamps, and coral reefs to the ocean's deep abyss, your adventure awaits!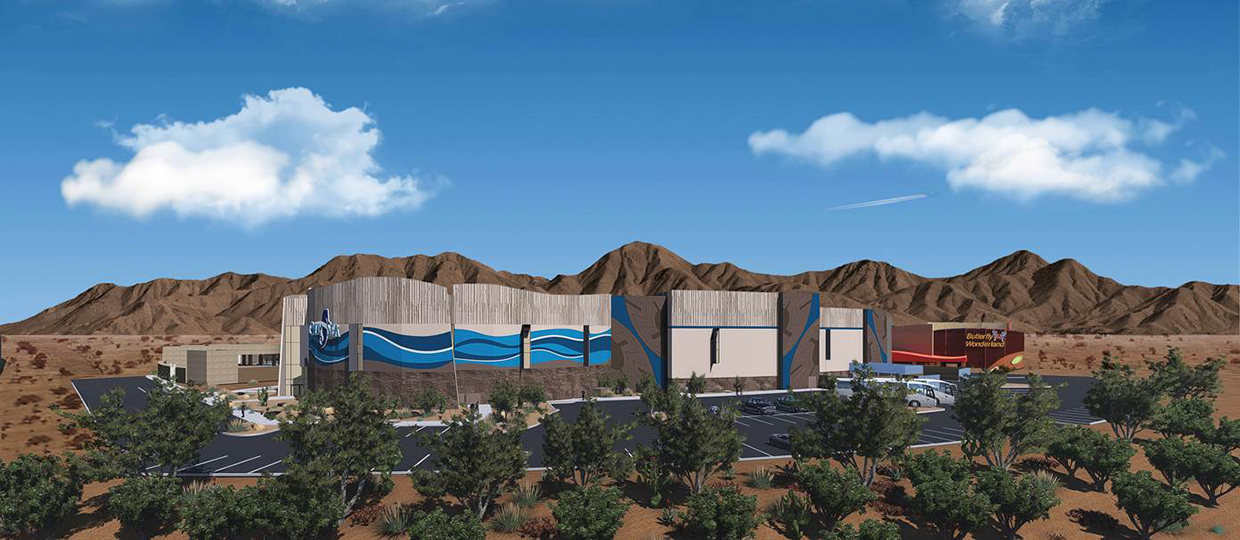 OdySea Aquarium, located in Scottsdale, was recently voted Best Indoor Entertainment. This multi-level, state-of-the-art facility holds more than 2 million gallons of water and is the largest aquarium in Arizona. OdySea Aquarium offers an educational, interactive and entertaining experience for guests of all ages by combining theme-park style amusement with highly engaging presentations of aquatic life.
The Aquarium features more than 65 exhibits, 370 species, the world's only Russian Sturgeon touch exhibit as well as 2 Stingray touch exhibits and a tide touch pool! OdySea is also home to Voyager, where guests take their seats in a stadium-seating style theatre with 46 ft. viewing windows for the "world's only revolving aquarium experience. Additional interactive activities include SeaTREK® underwater walking, fun & engaging Penguin & Sloth Encounter programs, walk-about "Animal Ambassadors", and Question & Answer sessions with the Animal Care specialists.
Our Mission
We deliver amazing guest experiences that create fun memories, heighten animal awareness, and inspire change, while fostering growth for our team members.
Our Vision
Our innovation will drive beneficial change by inspiring people to conserve aquatic resources and protect the animal world.
OdySea's unique circular design was custom developed to deliver an engaging and entertaining experience, as well as to foster a sense of community. The project began in March 2015, and was completed 18 months later in September 2016. The scope of this project required close collaboration between architect Deutsch Architecture Group, contractor McCarthy Building Cos., and structural engineer Caruso Turley and Scott. Every part of the building was custom designed to showcase both fresh and salt water animals, as well as to deliver an enhanced experience through interaction.
Key Facts
OdySea Aquarium was literally built from the inside out – the animal habitats were placed first, and the structure was built around them. This enabled OdySea to put the exhibits front and center.
Constructed with 2 million lbs. of steel and 1,198 beams
Contains 5,455 linear feet of acrylic observation windows to provide guests insight into the exhibits
Holds over 2 million gallons of water
Includes a life support system with 300 pumps and over 42,000 linear feet of piping. Three miles of piping was installed underground to operate the facility
Concrete Poured:
12,300 cubic yards of concrete for the structural footings
16 cast-in-place aquatic environments
121 individual structural columns
72 concrete tilt wall panels, the largest panel placed weighs 220,000 lbs and is 60 feet high
Meaningful Building Accents
Exterior Walls
Patterns on the exterior concrete follow the journey of the raindrop falling from the sky to the river, eventually making its way back into the strata of the earth. The undulating rhythm of the wave is cast into the concrete panel, representing rivers and waters of the earth, their movement and how man should respect their power and celebrate their elemental necessity in the desert.
Cattails
A native plant to Arizona, Cattails grew along the river banks. The native Indian communities harvested the cattails and used them for basket weaving.
River Walkways
Leading to OdySea Aquarium, the walkways represent the five major Arizona Rivers: Gila, Salt, Verde, Colorado and Santa Cruz.
Generational Footprints
Verde, Colorado, Gila, and Santa Cruz rivers were central parts of the daily lives of the SRPMIC.  The footprints depict adult (4' long) and juvenile (2' long) generations leading to a river.
Birds in Flight
This pattern is symbolic of birds in flight that dates back to the Hohokam, and has continued to be important icon in the community.  Those who attended the Aquarium groundbreaking ceremony saw a performance by children doing a ceremonial dance of birds in flight.
Tribal Partners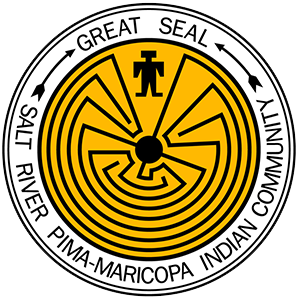 OdySea Aquarium is located on the eastern boundary of the Salt River Pima-Maricopa Indian Community (SRPMIC). The SRPMIC community has been closely involved in the construction of OdySea. Native American design features have been incorporated into the building's structure.
Amram Knishinsky, PhD
Dr. Knishinsky is a lead developer in the OdySea in the Desert projects. In the corporate world, Knishinsky initiated an imports division at Armour Food Co. that he grew to $150 million in sales. Together with Mr. Pollack he formed Damar International, a food importing company that they grew to over $50 million in sales. As a real estate developer for over 35 years, Knishinsky developed shopping centers, commercial office buildings and apartment complexes. He also developed the first for-profit aquarium in the United States in Newport, Kentucky; the OdySea Experience at the Mohegan Sun Casino in Connecticut, and most recently, Butterfly Wonderland and OdySea Mirror Maze in Scottsdale, Arizona. Knishinsky received his PhD from Arizona State University and earned his MBA degree from the University of California, Berkeley.
Martin Pollack
Mr. Pollack is a developer in the OdySea Aquarium project. His extensive background includes senior lending officer in the import/export department of a major financing company for a number of years. He was the financial officer for numerous companies in the food, finance and real estate industry for over 30 years and co-developed shopping centers, commercial office buildings, apartment complexes, and the Newport Aquarium. Pollack is a graduate of City College, New York.
Ran Knishinsky
Mr. Knishinsky, prior to joining OdySea, acted as the Executive Director, Aesthetics Marketing for Medicis Pharmaceutical Corporation. He was responsible for all marketing activities in North America for the $250 million franchise. During his tenure, the company sold to Valeant Pharmaceuticals. Knishinsky has also served as a Management Consultant in the areas of marketing, supply chain, and operations, in addition to retail and advertising experience. He is the author of 3 books published and translated into several languages worldwide. Knishinsky earned both his undergraduate and MBA degrees from Arizona State University.
Adi Knishinsky
Mr. Knishinsky comes from Bain & Co. where he worked alongside CEOs of Fortune 1000 companies addressing their highest priority strategic needs, with deep experience with growth strategy and operations. He has a MBA from Northwestern's Kellogg School of Management and earned a dual undergraduate degree in Finance and Management Information Systems from the University of Arizona.