OdySea Aquarium hosts many special events and programs throughout the year. No need for Groupon. You'll find all the details here, as well as all the coupons, promo codes, discounts, deals, and sales on tickets that we are currently offering.
Superheroes at OdySea Aquarium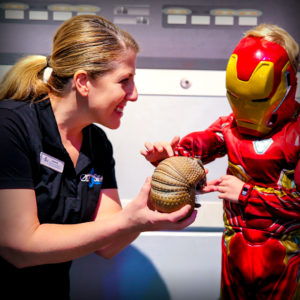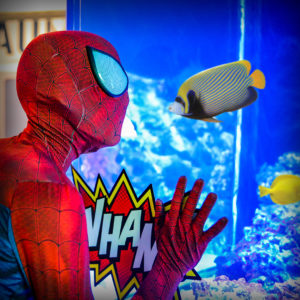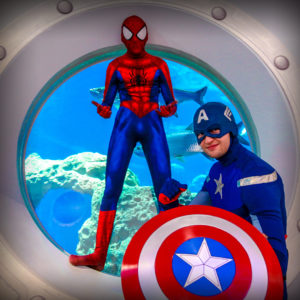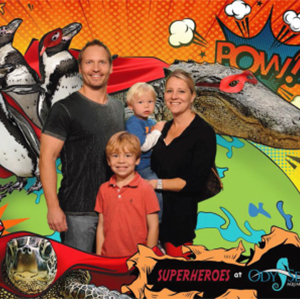 Join us for a celebration of Superheroes! From March 7th – 22nd there will be a Super Hero takeover at OdySea Aquarium!
Meet Captain Marvel, Iron Man, Spiderman, Captain America, Wonder Woman and the Flash to name a few! Learn about the 'super powers' of some of our animals like the Giant Pacific Octopus, Sharks, Rays, Angel Fish and more! Plus, this is the last chance to meet America's Largest Alligator, Mighty Mike, before he leaves in April! From your favorite fictional hero to the real-life animal heroes, this event is sure to amaze guest of all ages.
Superheroes activities:
Discover Animal 'super powers'

Did you know our animals have super powers too? Learn more about our Legion of Ocean Heroes such as sea turtles, sharks, giant pacific octopus, penguins and more!
Meet REAL Superheroes

Saturdays

Captain Marvel (11am – 2pm)
Wonder Woman (2pm – 4pm)
Flash (4pm – 6pm)

Sundays

Spider Man (11am – 2pm)
Captain Marvel (2pm – 4pm)
Captain America (4pm – 6pm)

Mondays, Wednesdays, and Fridays

Capt. America (11am – 2pm)
Capt. Marvel (2pm – 4pm)
Spider Man (4pm – 6pm)

Tuesday and Thursdays

Flash (11am – 2pm)
Wonder Woman (2pm – 4pm)
Capt. America (4pm – 6pm)
Super Clues Scavenger Hunt

Put your superpowers to the test during our Super Clues Scavenger Hunt and keep Professor Plastic from polluting our oceans.
You can be a Super Hero!

Kids can dress like a Super Hero, select their Super Hero name and pose for a Super Hero photo
*Superheroes activities are free with admission.
Sloth Encounter! | Starting January 11th
Slow down and Sloth On with our Sloth Encounter! Meet Squidney, OdySea Aquarium's beloved two-toed sloth, as she helps teach you all about what it takes to be one of the world's slowest moving…and cutest…mammals. You'll learn all about these fascinating animals, what threatens them, and how to protect them through our classroom portion of the encounter. Then it's on to meet Squidney. See what she feels like, feed her a favorite snack, and get your picture taken with one of OdySea Aquarium's most adorable ambassadors…and enjoy life in the slow lane!

Experience adventure and wonder for the whole family. Ticket includes access to all OdySea Aquarium exhibits, galleries, OdySea Voyager and our movie featuring Underwater Giants.
Best Price! Save More After 4:30pm
Available Every Day in March
Twilight
$44.95
$25*
Online Price
*Always check the website for the latest hours and date changes.  This offer cannot be combined with any other offer, discount, or special event, and admission cannot be purchased with gift cards. This special event is subject to end at any time.

For a limited time, we're slashing Annual Pass prices to make this your go-to place! Buy Now & Save Up to 50% on an Annual Pass. Pays for itself in just 2 visits!
Benefits:
Unlimited access to OdySea Express Train
Exclusive Passholder previews to popular events such as Mermaid Magic, Jaw-some July, and much more
FREE access to events like Happy Hour: Fish & Sips
10% discount on Shark Behind the Scenes Tours and Penguin Encounters
10% discount at Lighthouse Cafe and OdySea Treasures Gift Shop
10% off Birthday Parties
Discounts at select restaurants and retailers within OdySea in the Desert®
Not valid with Costo Card or any other discount.