OdySea Aquarium hosts many special events and programs throughout the year. No need for Groupon. You'll find all the details here, as well as all the coupons, promo codes, discounts, deals, and sales on tickets that we are currently offering.

Holy Batfish! Superheroes are invading the Aquarium March 9 through 24. Join us for Pows, Bams, and Whams of excitement for everyone!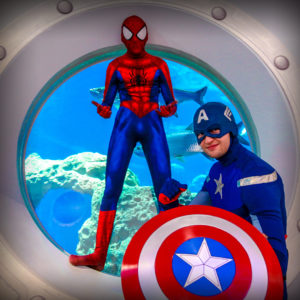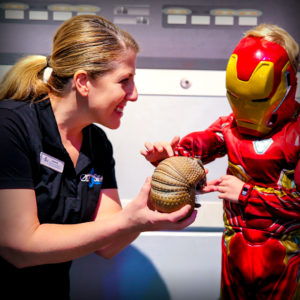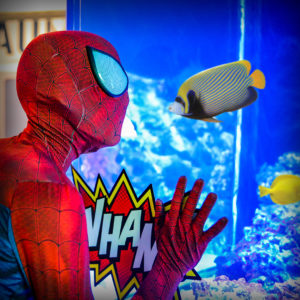 Meet your favorite Superheroes like Captain Marvel and Spider-Man. Daily Appearances 10am-4pm.

March 9-11, 17-18: Captain Marvel 
March 12-15, 19-21: Captain America 
March 16, 24: Wonder Woman
March 22-23: Spiderman

Help defeat Professor Plastic with the Super clues Scavenger Hunt
Meet local Superheroes, explore Squad Cars and SWAT Vehicles, see Canine Demonstrations, and more from the Salt River Pima, and Maricopa County Sheriff's Office 
And did you know our animals have super powers too? Learn more about our Legion of Ocean Heroes such as sea turtles, sharks, eels, and more!
*Superheroes activities included with Admission
Evenings At OdySea $25 Tickets after 4PM
Every day in March after 4pm

Visit OdySea Aquarium after 4pm  and pay ONLY $25 for a general admission ticket. Experience adventure and wonder for the whole family. Ticket includes access to all OdySea Aquarium exhibits, galleries, OdySea Voyager and the movie featuring Underwater Giants.
Evenings
$37.95
$25*
Online Price
*Evenings will not be available February 24-27, March 21. Always check the website for the latest hours and date changes.  This offer cannot be combined with any other offer, discount, or special event, and admission cannot be purchased with gift cards. This special event is subject to end at any time.
Slow down and Sloth On with our Limited Time Only Sloth Encounter!
Slow down and Sloth On with our Limited Time Only Sloth Encounter! Meet Squidney, OdySea Aquarium's beloved two-toed sloth, as she helps teach you all about what it takes to be one of the world's slowest moving…and cutest…mammals. You'll learn all about these fascinating animals, what threatens them, and how to protect them through our classroom portion of the encounter. Then it's on to meet Squidney. See what she feels like, feed her a favorite snack, and get your picture taken with one of OdySea Aquarium's most adorable ambassadors…and enjoy life in the slow lane!
NightLife at OdySea Aquarium
March 21 | 6-10PM
Ages 21+ only. ID required upon entry
We're taking the party back to the 90s! House, New Jack and Techno music will fill the aquarium. There will be a DJ party in Deep Ocean theater hosting the 90s Spring Break ultimate contest! Games like who can pack the beach back fastest, couples race wearing tandem sweaters, who can eat the most Pop Rocks before giving up, Sing that 90's TV Theme Song and Name that 90's One Hit Wonder.
This NightLife includes
Penguin Party at Penguin Point
Animal Enrichment: How do animals "let their hair down"
Full beverage service for purchase at bars located throughout the 
aquarium
Live Music
Pre-Order Online and Save
Lifetime Members and Annual Passholders:
Entry Only - FREE
Save up to 50% on Annual Passes

For a limited time, we're slashing Annual Pass prices to make this your go-to place! Buy Now & Save Up to 50% on an Annual Pass. Pays for itself in just 2 visits!
Not valid with Costo Card or any other discount.