General Information and Reservations
OdySea Aquarium welcomes Preschool through 12th grade public, private, charter, and homeschool students. School tours are self-guided tours that take 2 hours or more. No outside food or drink is permitted inside the aquarium, and there is not a place to store your lunches. Field trips can be scheduled any day with arrival times between 9:00 AM to 3:00 PM.
Please call 480-291-8246 if you have any questions.
Minimum group size is 20. Maximum group size is 125 per 15 minute entry time. Groups may have larger numbers but must stagger their entry times by at least 15 minutes.
Discounted price for school tours is $14.95 plus tax per student; chaperones are no charge within the appropriate ratio. 
Student ratio is one adult chaperone for every five students (1:5) for preschool thru 2nd grade. For 3rd thru 12th grade, student ratio is one adult chaperone for every ten students (1:10). Chaperones within this ratio are included at no cost. Part of these included chaperones needs to be teachers and aides, the remainder can be parents. Any additional adults are welcome to join at the discounted rate of $25 plus tax each. Bus Drivers are admitted at no cost.
Admission is not guaranteed until you receive confirmation. Payment methods are school purchase order, credit card, school check, or cash. Payment is due two weeks prior to the date of the field trip.
Due to the number of requests, please allow 5-7 business days for a representative to get back to you to confirm the date.
Please note that an OdySea Aquarium representative will contact you to coordinate your reservation.
To reserve your field trip, please fill out the Field Trip Reservation Request Form above. Once we receive this form, you will be sent confirmation and payment details. Tours are expected to take 2 hours or more.
If you are a Summer Camp or Scout program, please complete the Group Tour Reservation Form.
Assign each student to a designated chaperone: Create a list of chaperones and the students they will be responsible for during the field trip. Add the cell phone number of each chaperone to the list.
Go over Student Expectations & Chaperone Expectations: Please make sure that the students and chaperones understand the expectations of them during the field trip.
Contact OdySea Aquarium if you are running late: Call 480-291-8000 (press 0) ask for the Concierge Desk.
Call 480-291-8000 (press 0) when you are about 15-20 minutes away: This will make it so our guest relations representatives know to be looking for your bus to arrive, so they can meet you.
Student Drop Off: For student drop-off, buses should take the 101 and get off the Via de Ventura exit and head East. The bus should turn left into the parking lot from Via de Ventura by Butterfly Wonderland. Take an immediate left and go past the valet parking area and loading dock area and around the back of the aquarium. Buses should stop between OdySea Aquarium and Dolphinaris to unload.
Bus Parking: After dropping off the students, buses should continue around the OdySea in the Desert complex and park in the far northeastern parking lot.
Student Pick Up: Buses should pick up students at the same location where they dropped them off, making sure the door is by the sidewalk so students may safely board the bus.

All students and chaperones should be at the bus pick-up area between OdySea Aquarium and Dolphinaris 15 minutes before you need to leave so you have enough time to ensure everyone is accounted for and loaded onto the bus.

Students should form a single file line behind their chaperones.

Students should sit on the benches if they need to wait for the bus to arrive.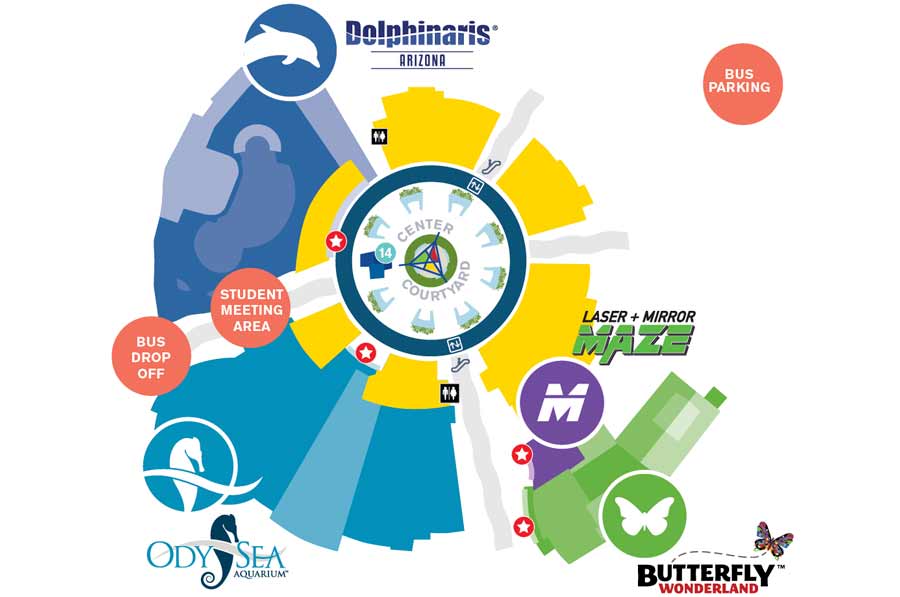 A Guest Relations Specialist will meet you at your bus and escort the main chaperone to the ticketing booth to give final numbers, make payment, and get wristbands.
Please inform the Guest Relations Specialist what your lunch plans are and what time you need the students to load the bus.
Additional chaperones will go to the ticketing counter to purchase their tickets and will then rejoin the group.
Once the designated teacher or representative checks in, students will get off the bus and form a line where wristbands will be distributed. Students should be in line behind their designated chaperones. If your group is large, please have them form two lines.
All members of the group (students, chaperones, and bus drivers) will be required to wear wristbands during the visit to the aquarium.
Field trips are self-guided, but there will be Education Specialists, Animal Care Specialists, and Guest Relation Specialists throughout the aquarium to help the students learn about the animals and exhibits.

The aquarium has two levels for guests to explore. Student groups will enter through a side hallway and go up the escalator to begin the tour on the upper floor.

Elevators are available for students with wheelchairs or disabilities and for young students who cannot use the escalator safely.

Each floor should take approximately an hour to an hour and a half to see the exhibits. The total time inside the aquarium should be about 2 to 3 hours, but you are welcome to stay longer if your group's schedule permits.

Because of the layout of the aquarium, students should finish everything they want to see on the upper floor before they move to the lower floor. The escalators only run in one direction.

We will give your group designated times to meet at the end of the upper floor & the end of the aquarium visit to help keep everyone on-track timewise.

Students are required to stay with their assigned chaperone at all times, but each student/chaperone group may travel as their own unit and meet the rest of the group at designated times.

Encourage the students to spend a minimum of 2-5 minutes at each exhibit so they can observe and learn. Have them notice at least 3 things about each exhibit and the animals that live in it (shape, size, coloration, swim patterns, adaptations, mouth shape, diet, region they originate from, endangered species status, etc.)

If students rush past exhibits it will make it so they do not learn even a fraction of what the aquarium has to offer and will put them at the end of the tour too early.

It is recommended that you print copies of the map for each chaperone before you arrive.
No outside food is allowed to be eaten inside of the aquarium. (If you have a student who is diabetic or has other medical issues, please let us know what accommodations need to be made.)

We do not have space for lunchbox or backpack storage inside the aquarium. Student lunches should remain on the bus or in cars until the end of the field trip. Alternately students and chaperones may carry the lunches in a backpack.

We encourage students to eat before or after the field trip.

The outside courtyard area can be used for eating snacks/lunches. Please make sure students are respectful and properly dispose of their trash.
Small groups may order from the Café inside the aquarium, but please note that the lines may be long and students must stay with their chaperone group at all times.
We have a sack lunch option through the Café, but orders must be placed at least a week in advance. The minimum order for boxed lunches is 25 lunches. The lunch choices are Turkey & Cheese Sandwich; Ham & Cheese Sandwich; PB& J Sandwich; or a Salad. The lunches are $6.48 + tax ($7 total) each and include a small bottle of water, a small bag of chips, applesauce, and a cookie.
There are several restaurants at OdySea in the Desert, including Opa Life Greek Café, El Encanto, Humble Pie, The View/Modern Grove, Frozen Penguin Ice Cream, Nekter Juice Bar, and Rocky Mountain Chocolate Factory. Frozen Penguin Ice Cream has a special for school groups, if you are interested we can send you more details.
We recommend that groups who wish to bring their own lunches visit one of the nearby parks.

Agua Linda Park – (northwest corner of Pima & McDonald) 8732 E. McDonald, Scottsdale, AZ 85250

McCormick Railroad Park – (southeast corner of Scottsdale Rd & Indian Bend Rd) 7301 E. Indian Bend Road, Scottsdale, AZ 85250 (1.7 miles west of the 101 Loop, exit Indian Bend)
School groups will exit out the gift shop.
Please have a class discuss before your field trip about proper behavior inside a gift shop.
All students must be properly supervised while visiting the gift shop.
The outside courtyard area is part of OdySea in the Desert and can be used for eating snacks/lunches.

There is a snack bar that sells food items. It is not guaranteed that the snack bar will be open during the time of your visit.

The outside courtyard is a public area and cannot be reserved, but is available on a first come, first seated basis.

Please make sure students are respectful and properly dispose of their trash.

Teachers and chaperones are responsible for their group's behavior while using the courtyard area.

Teachers & chaperones must ensure that students are not throwing things, or running or jumping across the planters, fountains, or stage.
There are two areas where the students are allowed to touch the animals – The Tidal Touch Pool and SeaTREK. Students need to be gentle and use "two-finger touch". They may not pick up any of the animals. They should wash their hands before and after.

Students need to use quiet inside voices. The acoustics inside the aquarium tend to make the sounds echo & reverberate, so please have students use quiet voices.

Students need to use walking feet.

Benches and ledges are not for climbing or standing on.

Railings are not for playing on, swinging from, or doing flips. The flooring underneath is concrete and creates a liability issue. It also creates a safety issue for other guests.

Once all attendees have their wristbands, they will be led in small groups to a hallway where they will be given a brief overview of the rules and layout of the aquarium. (At times, the introduction will be given outside or on the bus, depending on weather and group size.) It would be helpful if you go over these rules with the students before they arrive as well.
Students are required to stay with their assigned chaperone at all times.
Chaperones must be attentive to and responsible for their assigned students.
Guests may take as many photos and video as they like, but must so do without the flash or video light, as these can stress out the animals.
Frequently Asked Questions
Will we see the dolphins?
No, OdySea Aquarium does not have dolphins. The dolphins are part of Dolphinaris which is a separately owned and operated facility not affiliated with OdySea Aquarium.
Can we use the bathrooms in the lobby where we can see the sharks?
No, unfortunately, we cannot allow groups to visit the bathroom in the lobby because of fire marshal maximum occupancy regulations for the lobby. There are only a few stalls in the lobby restrooms and we cannot have the extra students and chaperones in the lobby. The layout of the aquarium does not allow for the groups to visit the lobby after they begin. The sharks are viewable from three other areas at the aquarium – in the Living Sea Carousel and two viewing areas outside of the Living Sea Carousel. Bathrooms are available in the Café area and outside the theater. There are also restrooms outside in the courtyard area by the escalators.
Can we leave and re-enter?
Although you may leave and re-enter the same day, we recommend that you spend the time to view both floors of the aquarium and then go outside to enjoy the OdySea in the Desert courtyard and shops. It should take you about 2 ½ hours to tour the aquarium.
Videos To Review With Students
The Making of OdySea Aquarium
OdySea Aquarium: An Engineering Marvel
African Black Footed Penguin Information
OdySea Aquarium photographers might be taking pictures during your field trip, please let us know if there are students who are not allowed to be photographed.
Please be aware that photos might be used for marketing purposes.
We are no longer accepting FALL 2017 or SPRING 2018 Scholarships but FALL 2018 Title One Scholarships are still available.
OdySea Aquarium receives funding periodically from generous donors dedicated to education. These funds from corporations, foundations, and individuals are donated to the 501(c)3 OdySea Aquarium Foundation, which then awards field trip scholarships for classes from Title One schools to come to OdySea Aquarium for a self-guided tour. Title One School designation must come from Arizona Department of Education and is based on at least 50% of the students being eligible for the Free or Reduced Lunch Program. The scholarship funds are limited and are available on a first come, first-served basis.
If you teach at a Title One school and would like to be considered for a scholarship for your class to come on a self-guided field trip to OdySea Aquarium, please complete the form below. Please note that there are limited scholarships and application does not guarantee an award. If your class is selected, you will be sent an award letter by email.
Mondays and Tuesdays are our preferred days for schools requesting a scholarship.
Minimum group size is 20 and maximum scholarship award is for 100 students.
If awarded a scholarship, it will cover the full cost of the student self-guided field trip admission (up to the maximum number of students awarded on the scholarship). Adult chaperones are free within a 1:5 ratio for preschool through 2nd grade and 1:10 ratio for 3rd grade through 12th grade. Additional adults outside these ratios are $25 + tax ($26.99) and are not covered by the OdySea Aquarium Scholarship. Additional students above the maximum number awarded by the scholarship will be required to pay the discounted student admission price of $14.95 + tax ($16.14) each.
Change/Cancellation Policy:
Changes to a reservation must be obtained no later than one week in advance. Group contact must call (480) 800-3000, ext. 206. Due to donation requirements, usage timelines, and available funds, approval for any increase in the number of students must be obtained in advance. Groups arriving with an unauthorized group size will need to submit payment for the additional students and/or adults upon arrival. Cash, business check, credit card or PO will be accepted.