Limited Time Offer! Save 30%
Put on your swimsuit, OdySea Aquarium wetsuit and SeaTREK helmet and get ready to dive in! Our certified guides will take you deep into one of our largest underwater environments in this truly immersive experience where you'll be surrounded by thousands of colorful and curious marine life from the Indo-Pacific region of the world.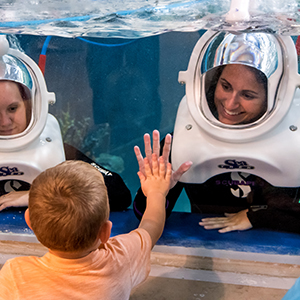 The entire experience will last approximately 1 hour.
All participants must be 8 years or older. Children 8-14 years old must be accompanied by a paying parent or guardian in the water.
Be sure to bring a bathing suit!
Check-in is at the Discovery Desk on the upper level around the corner from Penguin Point.
You will be given an OdySea Aquarium wetsuit to change into and a locker to store your belongings.
You will then get a quick SeaTREK safety briefing.
It's then time to get in the water! You will enter the aquarium via a ladder. The depth is approximately 8 ft.
Once the whole group is underwater, you will walk along a trail and come face-to-face with our resident fish.
Have fun!
SeaTREK Trivia
The first SeaTREK tour was in 1999.
SeaTREK has hosted over 2 million guests.
The oldest person to do SeaTREK is 93.
SeaTREK can be found in 27 countries on 5 continents around the world.
SeaTREK helmets have been featured on The Amazing Race, Mythbusters, The Bachelor, and Stranger Things.
SeaTREK's mascot is an iguana named "Trekker"
Who Can Participate
Pregnant women cannot participate
Children must be 8 years or older to participate
Children 8-14 must be accompanied by a parent or guardian in the water
Children 15-17 must have a parent or guardian signature to participate
SeaTREK may not be suitable for participants with pre-existing health conditions.
Additional planning is required for large groups, birthday celebrations, engagements and other special accommodations. Please contact Jessica Tammen (

[email protected]

) to organize your adventure or for clarification surrounding age and participation policies.