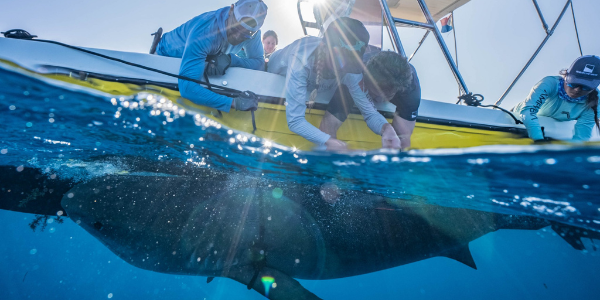 "Expedition Shark!"
September 24th – 29th, 2023

Step into the shoes – or fins – of a shark scientist on Expedition Shark! Take a once-in-a-lifetime journey to Bahía de los Ángeles, Mexico, to work alongside powerhouse shark experts from OdySea Aquarium, The Sulikowski Shark and Fish Lab, and the Vermillion Sea Institute to fulfill real-life shark adventures that rival episodes of any nature channel!
Lucky participants will rotate between two daily sea excursions to satisfy their inner shark/whale shark passions and curiosities through both tagging and research!
Travel with renowned shark expert Dr. James Sulikowski, college professor, researcher, and Shark Week star as he and his OdySea Aquarium partners locate, identify, and tag various shark species off the coast in the hopes of pinpointing sacred shark birthing grounds.
Whale shark research provides the rare opportunity to swim alongside these incredible animals! Participants will accompany the Vermilion Sea Institute and OdySea Aquarium experts on another exhilarating boat excursion to swim or snorkel beside docile whale sharks to collect data on these gentle giants' individual checkerboard skin markings.
Participants can consider themselves true stewards of the sea after experiencing the adventure of "Expedition Shark!"