"Everyone was fabulous and all of our guests had a great time. One guest even emailed after to say it's one of the best IT events he has been to."
Karey Willms
NIMBLE STORAGE
Plan Your Event
Take your event to the next level... Sea Level
Host an enchanting wedding by the water or sip refreshing cocktails while gazing at fascinating sea life. From intimate receptions to corporate gatherings to black tie galas, OdySea Aquarium will provide a unique experience and lasting memories. Offering a variety of unique venue space options, your special event or party can be customized to fit your vision and needs, and the guest list can even include a penguin or otter!
Please note event bookings are for evenings only.
We have very limited daytime event reservations. Please click here for information regarding group visits to the aquarium.
Amenities & Services
More than 200,000 square feet of unique event space
Partial or full aquarium rental
Accommodates groups of guests 10 - 2,800
Innovative menus and seasonal cuisine, with sustainable and locally sourced foods and beverage
Supports green initiatives with high-end compostable products
Event package includes linens, tables, chiavari chairs, set up, space and clean up
Audio/Visual capabilities
Vendor support for event design, décor, lighting and entertainment
Types of Events
Weddings - Experience Something Blue
Corporate Events - Waves of Excitement
Social Events - Make a Splash
Holiday Parties - Dive into the Holidays
Dive Deeper with our Event Enhancements
"Thank you again for a wonderful event Friday night, the feedback has been outstanding. Your crew really worked with us to keep it smooth and it went well. Also, the food was really good, better than other venues!"
Steve Greenberg
THIN CLIENT COMPUTING
Venue Spaces
Our Venues
Our venue options provide unique spaces that will amaze and excite your guests. Our spaces can be combined or rented separately. Our goal is to provide you with the perfect floor plan for your special event!
We offer both plated, buffet style and strolling receptions depending on space selected. Complete aquarium rental is available as well as lower or upper level rentals.
Full Aquarium Buyout: 2,800 capacity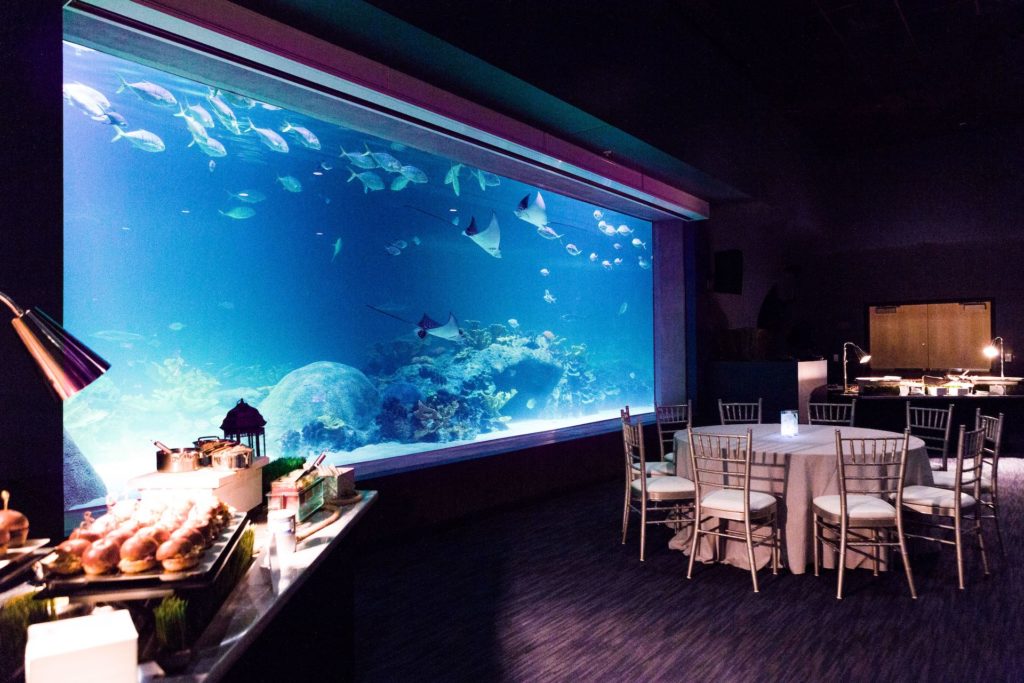 "Thank you for an amazing experience at the OdySea Aquarium! This was such a fun and perfect setting for bringing our teams back together and everyone had a great time. I so greatly appreciated your flexibility and help throughout the planning process to allow us to create the experience we were looking for. Your team members were all so friendly and helpful, the food was wonderful and the venue was so unique and fun (nothing beats that backdrop for a meeting!). The penguin meet and greet was also such a huge hit – everyone loved meeting Sedona! 😊 "
- Manager, Fortune 100 Company
Lower Level
P = Plated Dinners S = Strolling Receptions B = Buffet
LOWER LEVEL - 1,200 S
All of lower level.
OCEAN ART
Enjoy libations and small bites while gazing at moon jellyfish, varieties of sharks and the magnificent martini glass exhibit. Great for Cocktail Reception or Strolling Events.
REEF JEWELS
Party with Caribbean reef inhabitants such as clownfish, banded butterfly fish and green moray eel. Great for Cocktail Reception or Strolling Events. The brilliant Great Barrier Reef is included in this space.
GREAT BARRIER REEF TUNNEL
Enjoy the bustling and bright tunnel which offers an immersive tour through daily life inside Earth's largest living structure, Australia's Great Barrier Reef. Host an intimate dinner under the tunnel for 24 or less.
DEEP OCEAN THEATER
Dine under the sea with an expansive view into a 200,000 gallon habitat featuring sharks, rays and sea turtles. Expand your dinner into Bizarre & Beautiful where guests can enjoy unusual sights of the deep ocean including the majestic lionfish, chambered nautilus and the Giant Pacific Octopus. Great for strolling dinners, buffets or plated meals, as well as wedding ceremonies and receptions.

ADD BIZARRE & BEAUTIFUL
Enhance your event with the Bizarre & Beautiful area and enjoy the unusual sights of the flashlight fish, the king crab, and the giant Pacific octopus.

CONFERENCE ROOM - 14 P | 14 B
Host a meeting around a spacious boardroom table with impressive views into Shark Waters.
INVESTOR ROOM - 16 P | 24 S | 15 B
Host a group while taking in the inspiring views of sea turtles, sharks and rays. Relax on oversized couches while being treated to delicious cocktails and a variety of menu collections
Upper Level
P = Plated Dinners S = Strolling Receptions
UPPER LEVEL - 1,600 S
All of upper level.
RIVERS OF THE WORLD
Introduce your guests to the variety of fearsome and fascinating species found in Rivers all over the world. From paddlefish and piranhas, to tropical birds and the Asian small clawed otters, your guests will be entertained from start to finish. Make sure not to miss Squidney the 2 toed sloth! Great for Cocktail Reception or Strolling Events.
LIGHTHOUSE CAFÉ
Nautical themed restaurant is the perfect backdrop for your event. With a 37 foot interactive Tidal Touch pool and a massive sting ray touch pool your guests will experience marine life up close. Great for strolling dinners and buffets. 
PENGUIN POINT
Adore Pip, Polly and the whole OdySea penguin family. Our African black-footed penguins will create a buzz with their charismatic personalities and aquatic skill leaving your guests with a lasting impression. Amazing add on space to Rivers of the World and the Lighthouse Café. Great for strolling dinners and buffets.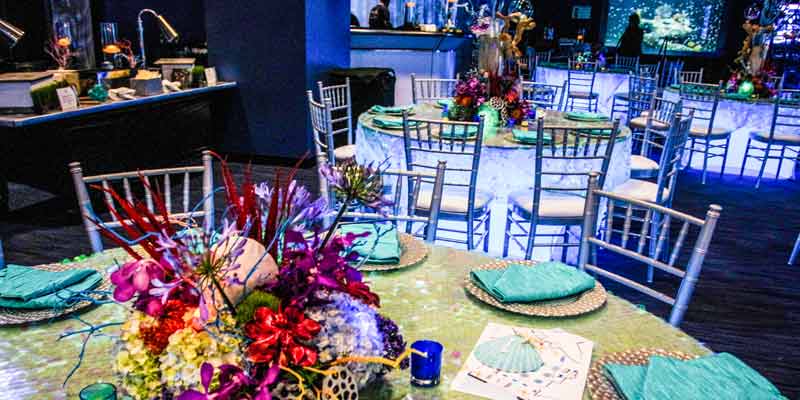 "On behalf of the Phoenix staff, thank you for hosting a great holiday party last Friday! We received so many positive comments about the food, atmosphere and overall experience, it was our best holiday party in recent memory!!"
Art Martinez
Price Waterhouse Coopers LLP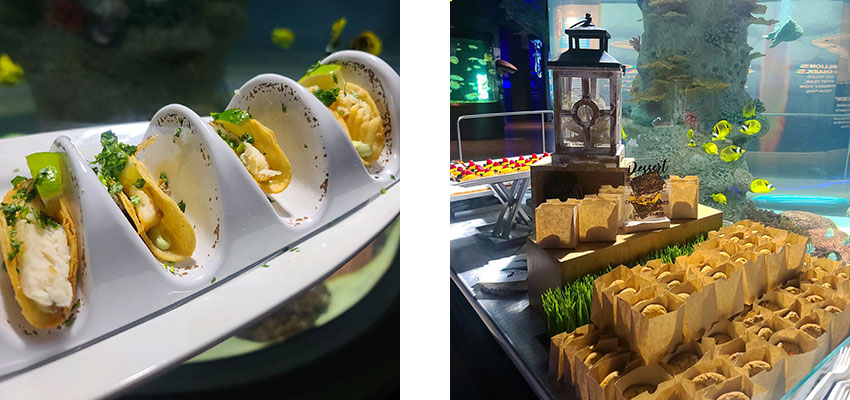 "Thank you so much for all of your help! Everything was great and heard nothing but good things from our guests. The food was fantastic as well! We will definitely be recommending it to others."
Regina Blackburn
International Capital Investment Company
Our Commitment to Local & Sustainable Foods
Our menus are developed using local, seasonal and sustainable foods. We partner with multiple local farms to provide the best and highest quality ingredients. We also use Eco-Products brand compostable or recyclable disposables where possible. All buffet dinners and strolling stations includes disposable products made from 100% renewable resources in efforts for environmental sustainability.  China and flatware can be rented at an additional cost.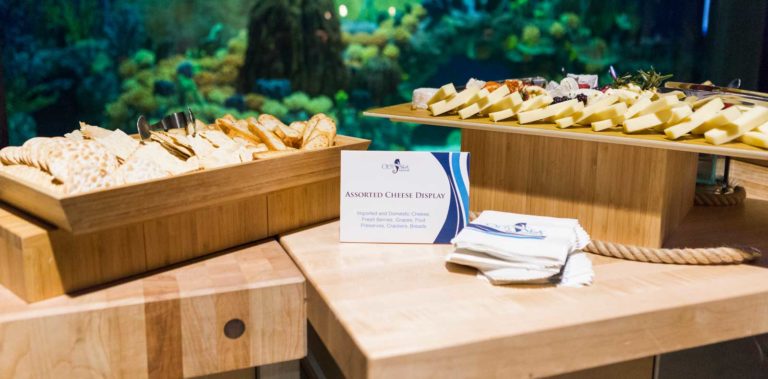 "Utilizing Odysea meeting/conference area for our recent meeting worked out wonderfully! Debra and staff were very helpful, attentive, and they absolutely helped ensure that we had a successful event. Working with the caterer was seamless AND the food was wonderful. Set-up was perfect and there were no issues with audiovisual equipment. The attendees loved the opportunity to visit all of the beautiful fish tanks and gain a better understanding of Odysea's mission. We would highly recommend this venue!"
Julie Griggs
Zoetis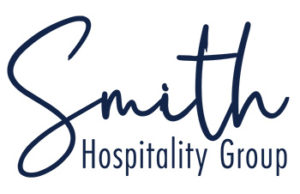 Smith Hospitality Group is the premier exclusive catering & event provider for OdySea Aquarium.
Diana David
Catering & Events Director
Smith Hospitality Group
(480) 291-8186
Bill Smith
Owner
Smith Hospitality Group