Best Prices Guaranteed at OdySeaAquarium.com
Limited Capacity! Reserve your entry time by buying your tickets online in advance. In order to manage capacity limits and provide for physical distancing, OdySea Aquarium has timed ticket entry. During peak times, the Aquarium may sell out of tickets or you may be given an entry time a few hours away. OdySea Aquarium accepts Visa, Master Card, and Discovery for payment. American Express is not accepted.
Bundle & Save!
Pick 2 Attractions - Save 10%
Pick 3 Attractions - Save 15%
Pick 4 Attractions - Save 20%
Visit all the attractions on one day or on different days. Tickets are valid for 1 year.
Attractions close at different times. Please visit the attraction websites to plan your visit.
You do not need to reserve a date or time. Tickets can be used anytime.
Pick 2: Save 10%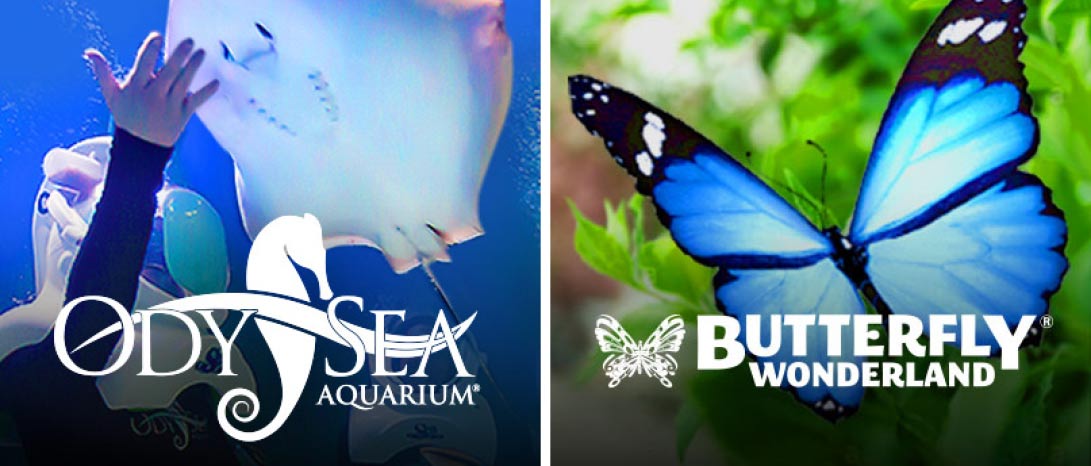 Adults
$71.90
$64.71
Child tickets available
Pick 3: Save 15%

Adults
$85.90
$73.02
Child tickets available
Adults
$83.85
$71.27
Child tickets available

Adults
$77.90
$66.22
Child tickets available
Pick 4: Save 20%

Adults
$111.80
$89.44
Child tickets available

Adults
$105.85
$84.68
Child tickets available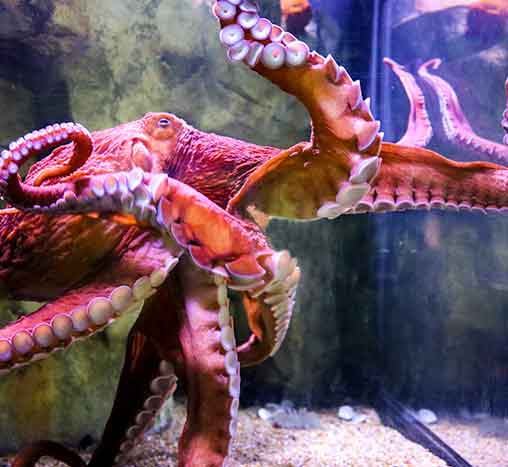 Online Ticket
Reserve your date and entry time.
Reserve an audio tour for only $5!
Adults
$43.95
Child tickets available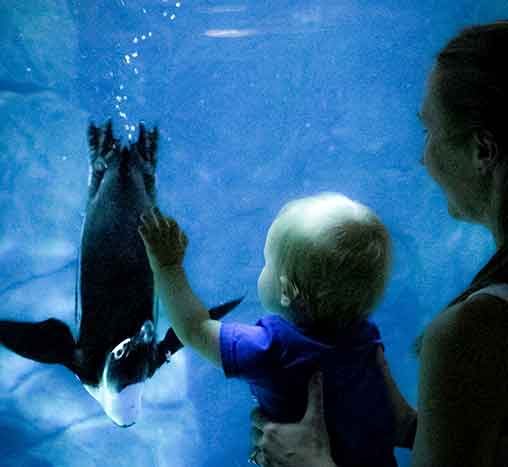 Best Price! Save More After 4:30pm
Visit after 4:30pm for the same great experience for less. 
Now Available EVERY DAY

*NOTE: OdySea Aquarium will be closing at 6:00pm on 1/23 & 1/24 for private events.
Valued at
$43.95
All tickets
$29.95
Save 32%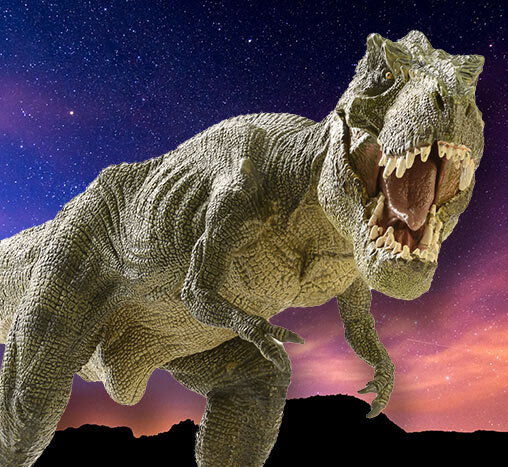 Add Pangaea Land of the Dinosaurs Evenings ticket to your Aquarium Evenings Ticket for only $16 more!
Available on selected dates only
Scheduled tours, fossil presentations, and special programming beginning at 4:30pm
Guests will receive a 15% off coupon for adult entrees at the Pangaea Dinosaur Grill
Interactive Stations available for upgrade onsite
Pangaea portion of the combo can be used any day after 4:30pm.
Last entry for Pangaea is 60 mins prior to closing.
Valued at
$63.90
All tickets
$45.95
Save 28%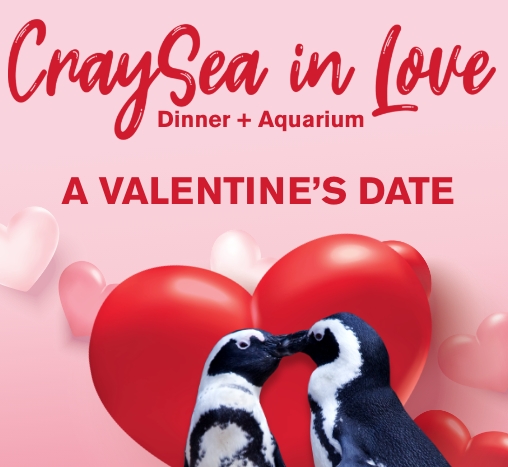 CRAYSEA IN LOVE
Tuesday, February 14th | 6pm-10pm
Tickets to this 21+ event include:
Admission to OdySea Aquarium, recently voted AZ's Best Indoor Attraction 5 years in a row!
A delicious dinner including a decadent dessert
Surprise appearances by some of your favorite OdySea animals
A rare walk-through experience of OdySea Voyager, allowing guests to get up close to sea lions, sharks, sea turtles, giant groupers and more
Access to unique touch pools with Stingrays, Sharks and the ONLY Russian Sturgeon touch exhibit in the world
Live Q&A with animal care specialists about courting and mating behaviors of different animal species
Live music in our Deep Ocean Lounge by renowned singer-songwriter Rick Hale
Multiple bars for alcohol and non-alcoholic beverages available for purchase
To renew your Annual Pass click here.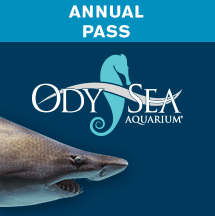 Get an Annual Pass
Pays for Itself After Two Visits!
Unlimited visits to OdySea Aquarium for one year
Exclusive Passholder previews to events and new exhibits
10% discount at Lighthouse Café and OdySea Treasures Gift Shop
Discounted tickets at VR Experience located opposite Penguin Point exhibit
10% discount on Shark Behind the Scenes Tours and Penguin Encounters
$50 Photo Upgrade: Digital copies of all entrance photos + 50% off prints. Photo upgrade is a separate purchase only available at the photo area.
Discounts at select restaurants and retailers within Arizona Boardwalk
Annual Passes are non-transferrable
Adults
$91.95
Family & Child passes available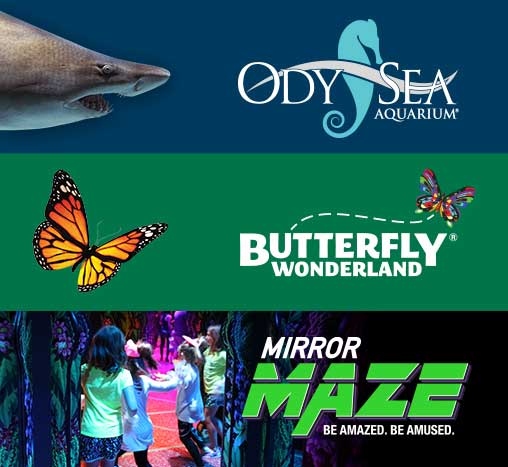 Triple Combo Annual Pass
OdySea Aquarium, Butterfly Wonderland & Mirror Maze
Triple your fun with UNLIMITED VISITS for one year to all three attractions
Discounts on encounters & tours, cafe, gift shop, and birthday party packages
Discounts at select restaurants and retailers within Arizona Boardwalk
Adults
$148.90
Family & Child passes available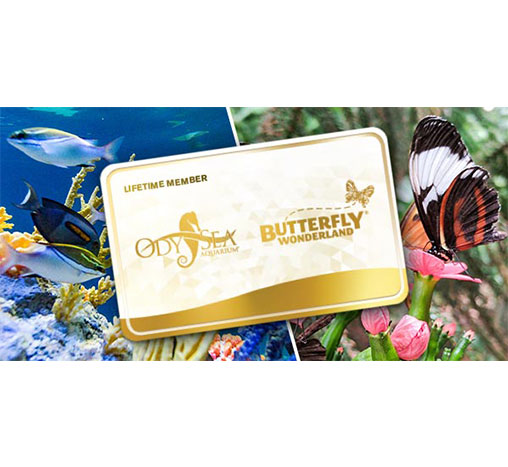 Combo Lifetime Membership
UNLIMITED LIFETIME VISITS to OdySea Aquarium and Butterfly Wonderland.
Discounts on encounters & tours, cafe, gift shop, and birthday party packages
Discounts at select restaurants and retailers within Arizona Boardwalk
Adults
$925.00
LIMITED TIME OFFER
Family & Child passes available